Eagles Flying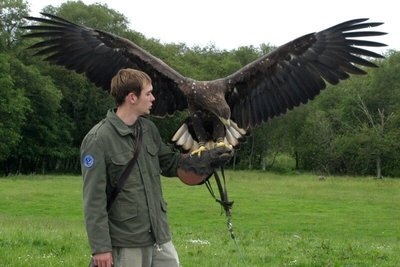 The attraction for all the family – excitement, fun, photo opportunities and much more at affordable prices.
Experience Eagles, Hawks, Owls and Vultures flying right over your head or landing next to you or on your hand. You have never been that close to a raptor. Irland´s largest Bird of Prey Centre offers incomparable experiences. 350 birds and animals out of 76 different species -100 of them being Birds of Prey,
The interactive and highly entertaining bird shows start at 11 am and 3 pm every day. Before and after the shows you can enjoy guided tours or walk the 27 ha parklands and see the birds in aviaries. You can also cuddle the animals in the Pet-Zoo.
In case of rain the shows can be presented indoors.
Opening times are as always 10.30-12.30 and 2.30-4.30. Shows are at 11 and at 3!
Centre will re-open on the 19th March and close on the 7th November
Eagles Flying / Irish Raptor Research Centre is Ireland´s biggest Centre for Birds of Prey and Owls. Currently it is home of about 100 Eagles, Hawks, Owls, Falcons and Vultures and situated on 27 ha of mature parklands near Ballymote in County Sligo.

Established in 1999 as an institution for research on birds of prey, it opened to the public in 2003. Only a few years later it is one of the major tourist attractions in the northern part of Ireland. Thousands of visitors flock to see the spectacular shows with free flying Eagles, Hawks, Falcons, Vultures and Owls of different species.
Eagles Flying is:
• attractive for all people who enjoy good entertainment – not only "bird people". Suitable for all ages and interests.
• unique, as visitors will be very close to Birds of Prey
• all weather suitable
• fully wheelchair accessible
• easily accessed even by coaches - only 3,5 km off the N17