Lissadell House
Lissadell House has been doing business for years, and we look forward to continuing our business relationship, particularly in the light of the 2016 centenary celebrations
The Lissadell Estate is the jewel on the Wild Atlantic Way. Its 400+ acres comprising the incredible Neo Georgian house, magnificently restored gardens, and specially assembled Countess Markievicz exhibition gallery, and Yeats Family gallery is situate overlooking Sligo bay, and as you know, is the childhood home of Constance Markievicz, one of the most prominent figures of the Easter Rising.
Some of our most noteworthy visitors have been the great Canadian songwriter, Leonard Cohen, the Prince of Wales and his wife, who unveiled the plaque of Yeats' poem 'The Light of Evening Lissadell' in front of the 'Great Windows open to the South'.
We have also hosted ambassadors from the US, UK and India, also Enda Kenny and cabinet who came here to honour W.B. Yeats.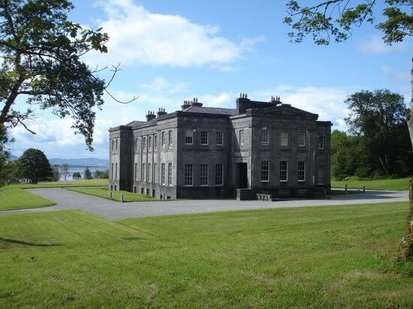 Lissadell invites you to join our growing list of guests. What can Lissadell offer you?
1. Brand new parking facilities for coaches with wide turning radiuses
2. Competitive discounts for large groups and amenities for those with limited mobility.
3. World class house tour where your guests will be regaled with the fascinating story of the Gore-Booth family, not only seeing where they lived, but also where their servants worked as they amble the halls of this living, breathing Downton Abbey like house.
4. W.B. Yeats and Countess Markievicz galleries, providing an intimate look into their lives through our bountiful collection of their original works including experimental photography, masterful paintings, and soul soothing poetry
5. Mouth watering, lovingly cooked hot and cold food at prices easy on the pocket, served from our delightful 75+ seating capacity tea rooms. Driver's meal on us.
6. Exhilarating walks or bike rides through our majestic woodland paths and quiet strolls in our enchantingly manicured alpine garden by the sea
7. Whimsical gift shops
The centennial of the Easter Rising is approaching.
Locals and people from all over the world will be coming to Lissadell in 2016, chasing the story of Irish independence. Lissadell is a true treasure trove of our national heritage.
We're keeping the torch burning for that legacy, our hat tipped to the Countess. 2016 is a big year for Ireland and Lissadell, a magical place not only to be seen, but experienced.