Knocknarea
Just 7 km from the Sligo Southern Hotel, this walk brings you to the top of Knocknarea Mountain home to Queen Maeve's Cairn, on top of a Neolithic passage tomb that is believed th to be largest outside the Boyne Valley overlooking Sligo and Ballisadare Bay, the outstanding views make for excellent photo opportunities - Capture the moment!
Starting Point: Sligo Rugby Club
Moderate Walk, contains over 500 wooden steps takes about 90 - 120 minutes
Killasbugbrone
7.5 km from the hotel brings you to the starting point in Strandhill village, experience the true feeling of the Wild Atlantic Way, this walk brings you over the dunes to 12th century church of Killasbugbrone, a pilgrimage site of times past which contained the realic of St Patricks tooth which now resides in tbe National museum. The Church hides a beautiful strand that is suitable for swimminng in high tide
Starting Point: The Cannon, Strandhill Village
Easy Walk, 90 minutes
The Glen, Sleepy Valley
7.5 km drive to the entrance of this walk that brings you back in time, leading down into a hidden valley with its cliffs and ivy curtains this walk will enchant you. This limestone rift, transports you to an area of peace and wildness
Starting Point: Kellystown, Ransboro, Sligo
Moderate Walk, soft underfood in places, proper footwear required
Hazelwood
3km from Sligo city centre
The wood is set on the shores of Lough Gill, and home to Hazelwood House, currently going through restoration and a former factory on the grounds has been granted permission to transform into a whiskey distilleray and visitors centre - the route follows the lake shore, a number of wooden sculptures can be found along the track, has a picnic area, overlooking half moon bay, where swans and ducks gather for some leftovers.
Starting Point: Hazelwood, Sligo
Easy Walk, unevenn ground in places
Dooney Rock
4km south of Sligo City Centre
This walk takes in breathtaking views of Lough Gill, and its Church and Beezies Islands, it inspiried WB Yeats to write "The Fiddler of Dooney". this is a looping nature walking trail with posts offering infomation on the various trees and plantlife located in the area
Starting Point: Just outside Sligo Town on the R287
Moderate Walk, soft underfood and steep in places, proper footwear required
Slish Wood - Innisfree
4km from Sligo on the R287
An easy route to follow along the shores of Lough Gill overlooking Beezies and Church Island, this walk has been recently extended by wooden boardwalk past the black pond over heather filled bog to Innisfree Island
Starting Point: Slish Wood, Sligo
Easy Walk, wet in places 120 minutes
Rosses Point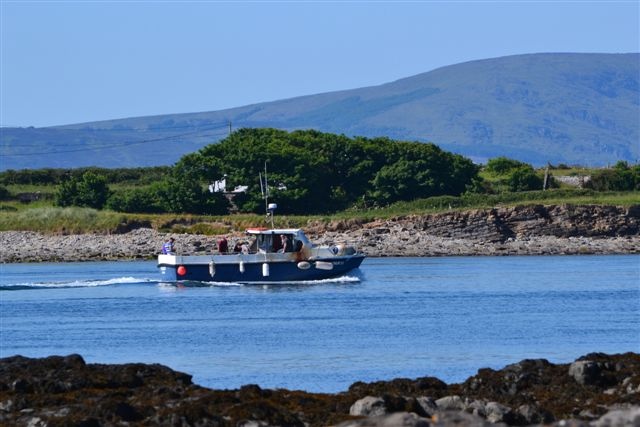 Rosses Point village is just 8km from Sligo City Centre
Starting at the pier this walk leads you along the coast past Deadman's Point where you are overlooked by the Metal Man, a beacon erected in 1821 to indicate to passing ships the safe channel into Sligo Harbour. You will pass by Sligo Yacht club and then onto one of three golden sandy beaches where you can walk for hours. Rosses Point is a photo point along the Wild Atlantic Way and the scenery here will not dissappoint
Starting Point: Rosses Point Pier
Easy Walk, 30 minutes upwards depending on how far you wish to explore
Gortarowey
10km from Sligo City Centre, via N15
This looped trail takes you on a fortested path along the side of the reknowned flat topped Ben Bulben Mountain and offers spectacular panormic views of Sligo Bay, the Ox Mountains and Knocknarea.
Starting Point: Car Park, on the Sligo to Bundoran Road
Easy Walk, 90 minutes
Lissadell
This walk is located within the historic Lissadell Estate formally owned by the Gore booth family, running between the road and the shore, take the path left through the trees, this path bringing you past the bluebell fields and along the shore, and onto teh Ballygilgan Nature reserve, known locally as the goose fields
Starting Point: Car Park at Lissdell
Easy Walk around 40 minutes